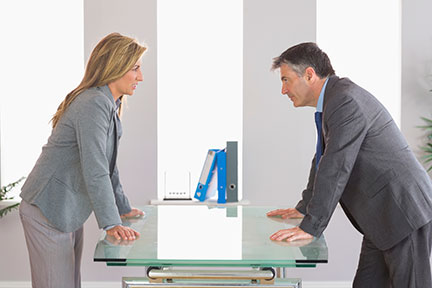 Team Conflict
Is achieving your team or organization goals getting sidelined by conflict? Are you ready to get past it and move on? Take a few minutes and ask yourself these questions:
What is the cost of this conflict to our employees (hint-look at morale, turnover, ease and speed of meeting goals)?
How is this conflict impacting our clients/customers? What is the economic cost of that impact?
If we doing nothing to address this conflict, how will that impact our productivity and goals?
If you have identified a high cost to you and your organization, it may be time to address the conflict once and for all. But conflict is often so complex and hard to figure out.  Here's a start: When experiencing an ongoing, unresolved team or organizational conflict there are two main places to look:
Environmental – is the structure of the organization set up correctly? Are roles and responsibilities clear across teams and organizations? Are objectives aligned or in competition with each other? These may sound simple but after 25 years in business, I have learned to "Look here first."
People – are people stuck in their own mental patterns that don't allow them to consider alternative points of view? Is trust low? Is fear driving defense strategies that undermine professional adult behavior?
When helping a team or organization work through conflict, I count on my experience and education in diverse disciplines to synergistically integrate all the pieces needed. For example, I have a deep background in Organizational Effectiveness to assess its impact on the conflict. I am skilled in taking individuals to the root of what is bothering them. I know how to set up a safe "container" that encourages people to bring empathy to the situation. In short, my natural talent, honed to a strength over 25 years, is to cut through the complexity right to the core issue(s). With that clarity, I design and facilitate a process for people to go on a journey of compassionate and courageous discovery to ultimately resolve the conflict.
It costs you nothing to set up an initial conversation about your situation. Based on our discussion, I will provide my best recommendations about how I can help you or steps you might take on your own.  Contact me now while you are motivated to take action.