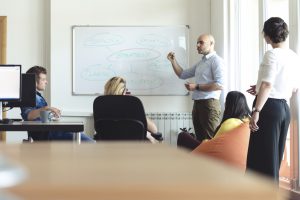 Strategic Planning
Many high-end consulting firms offer in-depth Strategic Planning services. They are business experts who analyze the critical factors affecting your organization and provide a well thought out plan for your company to follow. In many cases this is a good approach. However, for others, a more hands-on process will yield an internal, well thought through strategy that is enthusiastically executed by your organization. Jen Joyce brings the process expertise, you bring the context expertise. This process is effective at all levels of your organization – departmental to executive team.
Strategic Planning Process
This planning process is designed to bring key players together to explore, test, and discuss the critical components needed in their Strategic Plan. The advantage of this process is that the Strategic Planning Team (SPT) will gain critical insights into their business to add to their already keen expertise and also build strong bonds across organizational disciplines that will lead to unified and aligned leadership. Lastly, with this process, the key players will buy in and deeply support the plan because it is theirs – not something someone else designed for them.
The program includes:
Discover – A process to bring in critical thinking from many perspectives such as a cross section of employees, suppliers, and customers. Participants will conduct interviews to build a rich and multifaceted perspective of their business – currently and 1-3 years down the road.
Design – The SPT will participate in an offsite conference(s) to have in-depth dialogue exploring the complexities of technology, market, and internal strengths needed to inform their strongest business strategy.
Deliver – With a robust strategy in place, the team will determine top priorities and a linear action plan to execute the strategy. The priorities and action plan then direct the ongoing focus of management and employees.
The logistics of the process include:
Initial diagnostic interviews with key stakeholders conducted by Jen Joyce with a subsequent assessment and recommendation.
A workshop to develop skills and the best questions for the team to use in their Discover Process.
Interviews conducted by the Strategic Planning Executive Team.
Offsite conference(s) designed and facilitated to maximize robust thinking, alignment and results.